Zendesk is a customer service platform, and the Memsource connector integrates with two Zendesk products: Support and Guide.
Zendesk Settings
To establish a connection between Zendesk and Memsource, you will first need to set the languages in your Zendesk account. You have to do this in both products—Zendesk Support (to translate the dynamic text) and Zendesk Guide (to translate the articles in your knowledge base website). Your Zendesk subscription plan must support multilingual content.
Log in to your Zendesk account.
In Zendesk Support, add new target languages.
Switch to Zendesk Guide and add new target languages there. Zendesk Guide offers more locales than Zendesk Support, so make sure you select the same locale. For example, using Norwegian in Support and Norwegian(Bokmål) in Guide will not work.
Note: Memsource connector languages are set according to the languages in Zendesk Support.
Memsource Settings
In Memsource, navigate to Setup and scroll down to the Integrations section. Click on Connectors. After clicking on New, you can choose the connector you wish to create. Give it a name and change the Type to Zendesk.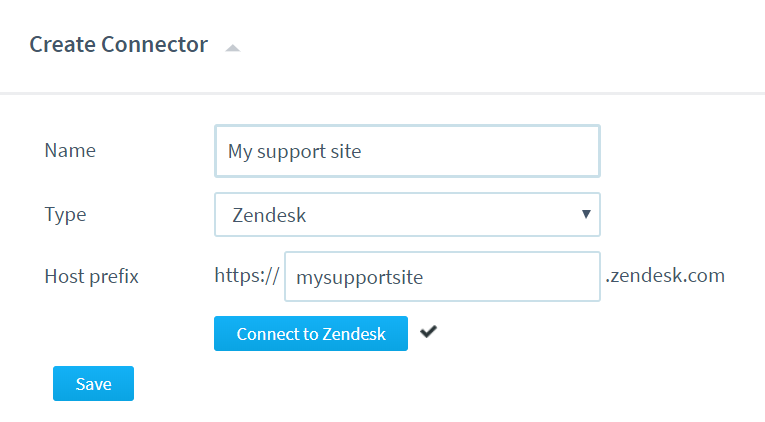 For the Host prefix field, enter your the first part of your Zendesk URL. Note that the http:// and .zendesk.com parts of the URL are automatically added, so you'll only need to add the part of the URL that goes in between those two sections. For example, you would type mysupportsite for https://mysupportsite.zendesk.com.
After you've entered your Host prefix, click on Connect to Zendesk. A pop-up window will appear and will ask for your credentials for Zendesk. If you already are signed in to Zendesk in another tab, the authorization will be automatic. Make sure you have pop-up windows enabled in your web browser.
If you've set everything up correctly, you'll see a checkmark next to the Connect to Zendesk button. Then, click Save.