External terminology (or glossary) files can be imported into a Memsource term base in Excel or TBX file formats. The size limit for a file that can be uploaded is 1GB.
Import Files
To launch the Import dialogue window, first, click on the name of your term base. Then, click the Import button in the Import/Export section of the page. 
Select your file (Excel or TMX).
Select whether you want to add new terms or update existing ones. (Note that importing the same file twice will create duplicate terms. See Update Terminology for more details.)
Select strict match locale (if, for example, you don't want to add generic "en" terms to an "en_US" termbase).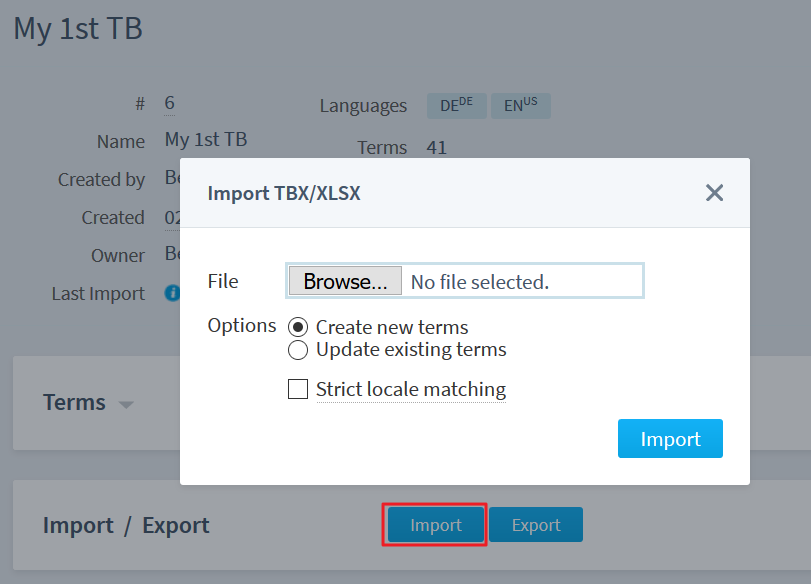 Excel File
If you do not have a ready TBX file, using an Excel file is the easiest way to import terms into a term base. A plain list of terms can be imported, but more complex terminology imports are also supported and will be explained below (importing synonyms, morphology, terms with various attributes, etc.).
Important: Only terms from the first sheet in your Excel file are imported.
Basic Terminology
How to prepare your Excel file for import:
All terms need to be organized into columns, where each column represents one language.
In the first row, use the appropriate language code for each language (for example en, de, and it).
When you're done, save the Excel file. Click on the Import button and select "Create new terms".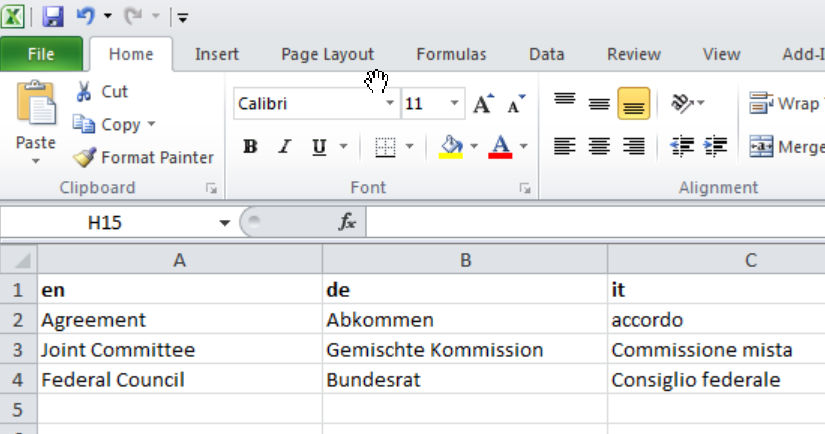 Synonyms
Importing synonyms in Excel is possible. The synonym must be placed in a separate column using the same language code header.
For example, using "contract" as a synonym for "agreement" will need two en columns: en, en, de, and it. Using three synonyms in English will need three en columns, using synonyms in English and German will result in en, en, de, de, it, etc.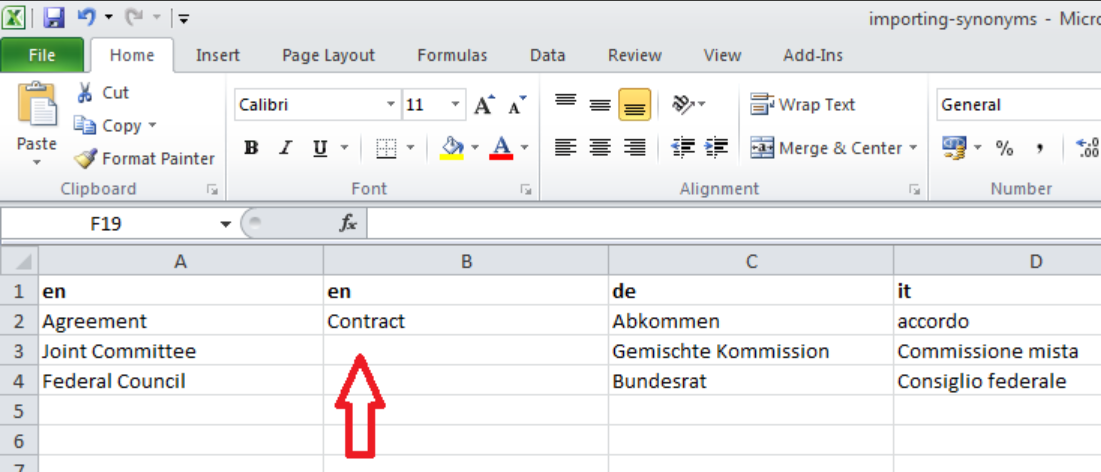 Terms with Attributes
The XLS/XLSX format also makes it possible to import terms with specific attributes. Some of them are generated by Memsource and are available only in files exported from a Memsource TB.
See the full list of the attributes in our Term Metadata in a Term Base article for more information.
Creating a new term with attributes:
Add a new attribute column after each term column (or synonym column).
Put the name of the attribute in the header and the attribute values in the rows below.
Save the Excel file and import it to a TB.

Terms with Challenging Morphology
Terms that are being imported follow the same morphology rules as terms created directly in a Memsource TB. Please see our Term Morphology article for more details.
Apart from working with synonyms and Fuzzy/Exact matches, you can also add a pipe character | as a boundary between the word stem (the part that does not change) and the suffix (the part that does change). This is especially useful for words whose endings can change. For example, the term smíšen|ý in Czech can also come up as smíšeného, smíšenou, etc. Putting the "|" character before the ý ensures that all three endings will be considered matches.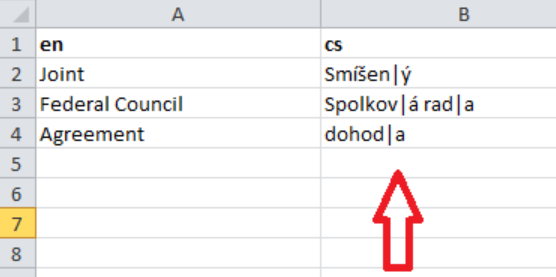 TBX Import Format
Memsource also supports the TBX format for terminology imports (and exports). The TBX standard is a "loose" standard, which means that if a TBX file is imported from another CAT tool, some of the metadata may not get imported. See the full list of the attributes in our Term Metadata in Term Base article for more details.
Note: If you need to import terminology between two Memsource term bases, use the TBX format. Inside the Memsource environment, the data will be imported correctly.
Multiterm TBX
We have optimized the import process from Multiterm TBX files and the following metadata will be imported into Memsource:
Timestamps (created at, last modified at)
Value in element <descrip type="usageNote"> to the attribute usageExample of all the terms of the concept
Value in element <descrip type="note"> to the attribute note of all the terms of the concept
SDL TBX.XML file
SDL Trados uses a special TBX.XML format instead of the standard TBX format. Because of this, it has different specifications for import.