Jobs can be assigned to multiple providers—either Linguists or Vendors—when creating a new job, editing a job, or when using project templates.
You can add Linguists and Vendors to individual jobs or to batches of jobs. Select the job(s) you want to add Vendors to and click Edit.
Select one or more Providers by clicking on their names. You can select any number of providers.
Drag the names to change the order of your Linguists or Vendors.
Use backspace or the Delete key to remove them.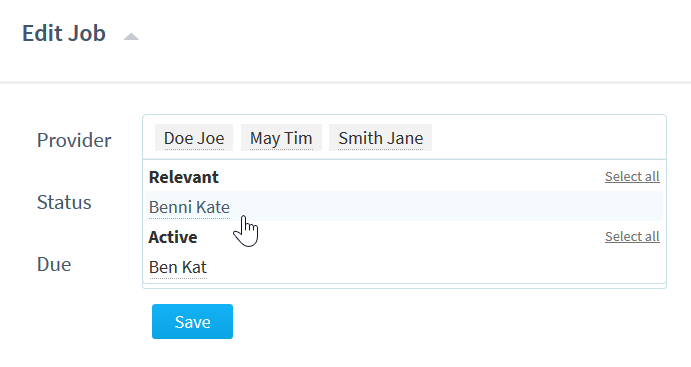 Note: You can choose to notify all providers by email—either all at once or in selected intervals. On the same page where you add your files to your project, you'll see a Notify Providers checkbox and an Interval field above the File Import Settings section. Set your desired interval (ranging from all at once, to one every 24 hours) and click on Create.
Assign Linguists and Vendors by clicking the checkbox next to your job and selecting Edit. Select as many providers as you'd like to notify about this project.
Once you have your provider(s) assigned to your job, select the job(s) you would like to send emails regarding. Click Tools and select Email... Once you do this, a new window will pop up where you can either select a template or type out an email yourself. You can send an email to one Linguist or Vendor, or to multiple Linguists and/or Vendors at the same time. 
You can also select an email template to automate this process even further (you can create a new email template or modify an existing one in Settings by clicking on Email Templates in the Administration section). Use the default template to start with or create your own, using the available template macros as variables for the Linguist name, your name, email address, and some additional information.
Once you've sent the email, the provider then can log in to their Memsource account and look at the job in the web editor in Read-only mode. The provider can then:
Accept the job: It will then become unavailable to other providers.
Decline the job: If the provider declines, the provider's name will disappear from the Providers list. The job will still be available to the other providers.