Introduction
This third party plugin (developed by Patrick Hartnett) enables SDL Trados Studio users to connect to a translation memory in Memsource. Please note that this plugin works with SDL Trados Studio 2011, SDL Trados Studio 2014, SDL Trados Studio 2015, SDL Trados Studio 2017, and SDL Trados Studio 2019.
Installation And Setup
Sign Up for Memsource
Sign up for the Team Start edition (the Plugin will not connect if other Memsource editions are used). This edition provides a 30-day free trial and costs EUR 20/month (USD 27) if the user decides to subscribe.
Sign in to Memsource and create a translation memory.
Plugin Installation
The Plugin is available as a free download from the SDL OpenExchange site.
Plugin Setup
1. From the Projects View, select and open an SDL Trados Studio Project. This is done by double-clicking on the project from the project list.

2. From the Files View, select and open one of the files by double-clicking on one of the files from the file list.

3. From the Editor View, you should be able to see the Project Settings button available in the Translation Results section. Note that it is also accessible from the menu, but using the Project Settings button is the quickest way to get to the settings and to test the plugin at the same time.

4. From the Project Settings window, Add MemSource TM provider to the list of Translation Memories.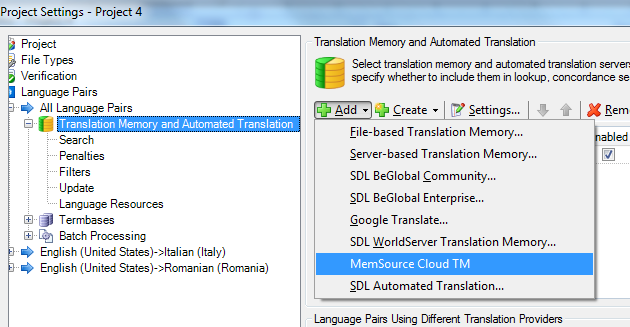 5. Select Settings or double-click on the listview item to activate the Settings dialog of the Memsource TM provider. Enter your Memsource username and password as well as this URL: https://cloud.memsource.com/web/api/v4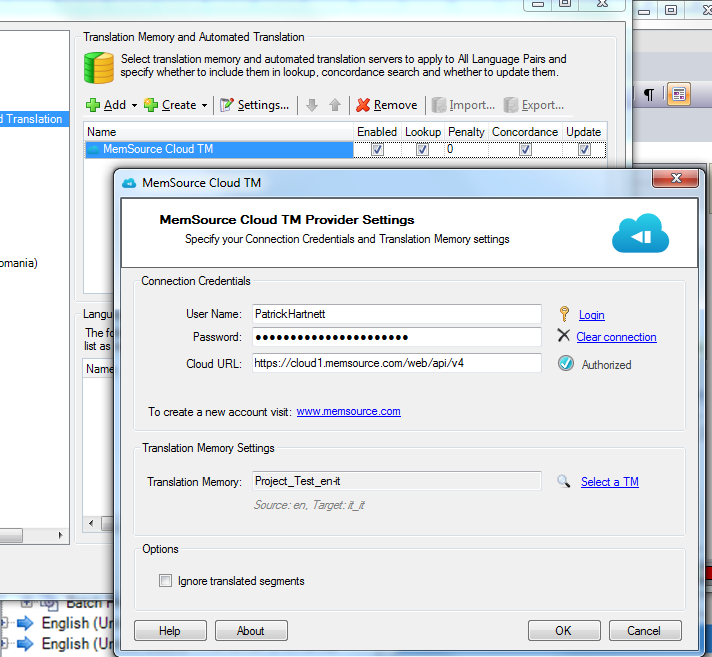 6. After you have clicked on the Login button to authenticate your connection credentials, choose a Memsource TM from the list available.