The Changes Pane displays changes in a segment across all Workflow steps. The Show Changes and Track Changes features are available only for jobs that support Workflow steps (Team, Ultimate, and Enterprise editions). If no changes are available or Workflow steps are not active for a given file, the Changes Pane will be blank.
The Show Changes filter can also be used to filter only those segments that have changes.
The Changes Pane in Memsource Editor
Changes are displayed under the Changes Pane on the right. The top window shows the segment in all Workflow steps. The central window displays the differences in the text between the selected step and the previous step. In the example below, the selected step (highlighted in the top segment) is R and the difference shown is between the T and R steps. The bottom window shows metadata for the selected segment in the Workflow step.
Filtering Changes
The translated text can be filtered so that users can see the differences between the selected Workflow step and the previous step.
Analysis
You can create a comparative Analysis in your project. Again, this will always compare the selected Workflow step with the previous step. First, go to the Workflow step you wish to work with, then select the file(s) in question and click Analyze. Change the Type to Compare and select the Workflow step you want to compare it with.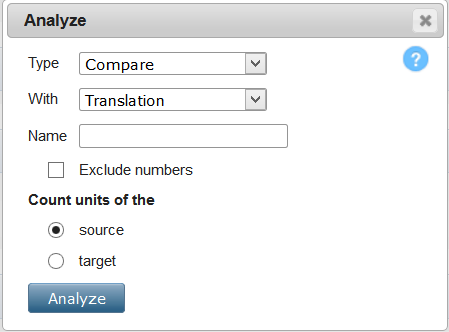 In these analyses, you will be able to see how many segments and words were corrected and how many characters were added by the proofreader.