It is possible to search the content of a translation memory and to delete or edit individual entries in a specific language. You can even delete the whole translation unit—both the source and target(s).
Note: Only Project Managers and Linguists with special user rights (marked as Edit translations in TM) have access to the translation memory through the Memsource UI.
Search Translation Memory Content
Step 1: Open the translation memory and use the field in the Search window to enter the text you want to search for. Please note that searching with wildcards is supported.
Step 2: Select the appropriate language and then click Search.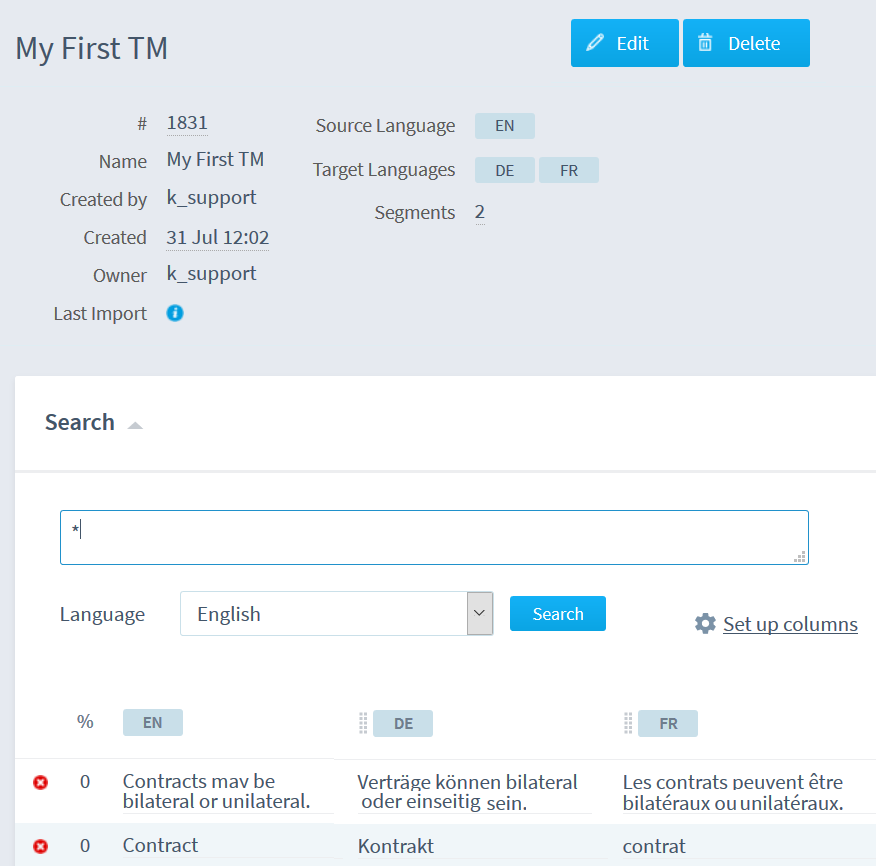 Viewing the Search Results
In order to make your translation units easier to view, it is possible to rearrange the language columns. Drag columns to the left or right using the mouse.  Or, by clicking on the arrow icon in the column header, you can move the entire language column to the leftmost position.


You can show or hide selected columns using the Set up columns feature. When you click this, you'll notice a list of the target languages in your TM. Uncheck any that you do not want to have displayed and click Apply.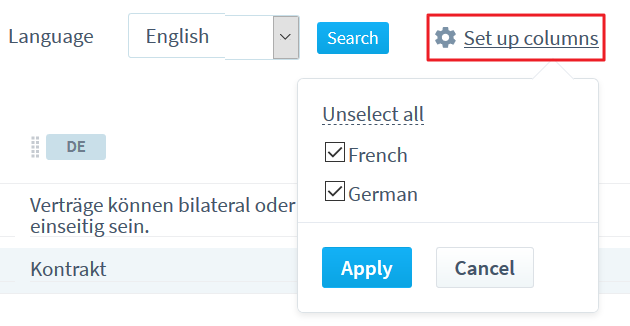 If you want to display the details about a translation unit (who created or modified it and when, the context, the original file it came from, and the project associated with it), simply hover your mouse over the i next to that segment as shown below.


Editing a Translation Unit
Important: There is no "Undo" function when editing your TM, so please proceed carefully.
The results from your search can be edited by double-clicking on the text. To exit the editing mode, simply click anywhere outside the editing window. Any changes will be automatically saved.
The red X icon at the left side of the row will delete the whole translation unit.
The red X icon on the right side of any language column will delete only the target segment for that language. This is especially useful in multilingual TMs since it allows you to keep translations for other languages intact.