A translation memory is a key aspect of every CAT tool. If you are not familiar with the translation memory concept, please read our Translation Memory article first.
There are three ways to create a translation memory in Memsource:
The first way to create a TM is directly from the panel menu. Click the plus (+) icon next to Translation Memories on the left side of the screen.

You can also create a new TM directly from the Translation Memories page. Do this by clicking on the button Translation Memories on the left side of the screen and clicking New at the top of the next page.

The third way to create a TM is directly from the project itself. To do this, open the project, scroll down to the Translation Memories section, and click on Create New. Using this method, the project's languages will be pre-selected in the new TM window, and the TM will be automatically assigned to that project.

Using any of the methods above will open the New Translation Memory page. Here, you will fill out the following mandatory fields:
Name

Give your new translation memory a name. Remember that you will be able to use it for other projects later on as well, so it does not have to be specific to just one project.

Source Language

The source language is the original language of your document. Only one source language can be selected per translation memory. If you used method 3 as noted above, this will already be filled out for you.

Target Language

A target language is a language that you will be translating into. There can be an unlimited number of target languages in a translation memory. Again, if you used method 3, this will already be filled out.
Please note that while a TM can have multiple languages, a maximum of 10-15 languages is recommended. Less than 30 languages are still manageable, but more than 50 languages will cause the TM to become very slow and very hard to work with.
You can also fill out the following fields as needed (if applicable):
Client
Business Unit
Domain
Subdomain
Note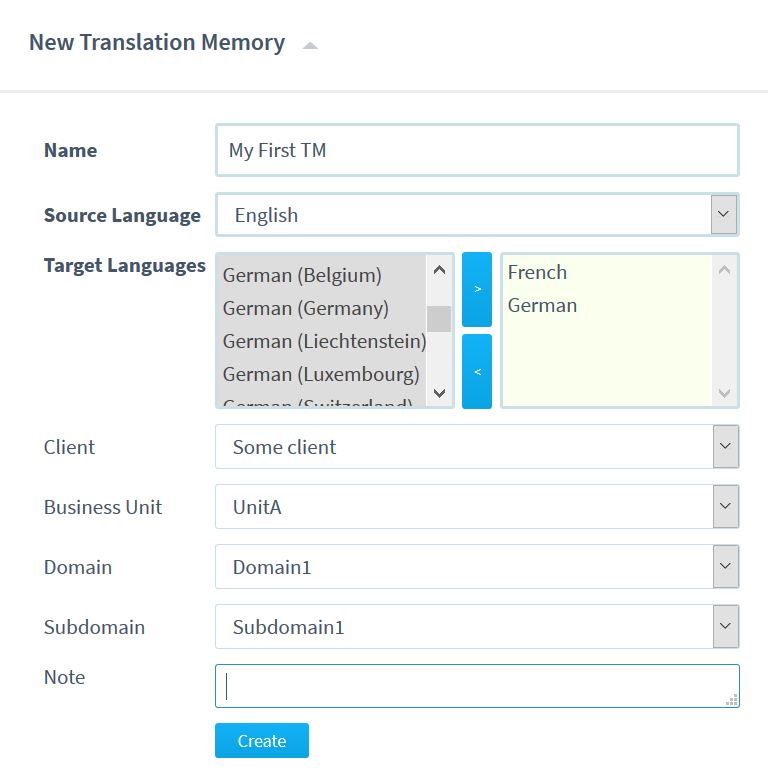 Click Create, and your translation memory is now complete.
You can import a TMX from another CAT tool (or a special Excel file) into your Memsource TM. You can also align previously translated text with its original version and import it into your Memsource TM.
If you haven't done so already, don't forget to assign this memory to a Memsource project.