The Analyze feature makes it possible to calculate the character/word count in the selected files as well as establish the number of repetitions, non-translatables, translation memory matches, and even machine translation matches (in the post-editing analysis) or revisions made by a reviewer (Compare analysis).
Since different billing units are used in different countries, Memsource provides the following in each analysis:
Characters (without spaces)
Words (for languages using spaces between words - this excludes Chinese, Japanese and Thai)
Pages (1800 characters with spaces - unrelated to the actual number of pages in a file)
An analysis can be assigned to a linguist and in that way it will be displayed to the linguist in the linguist portal.
To run an analysis, open the project, select one or multiple jobs and click on "Analyze" button.

Launch analysis
The following types of analyses are supported:
Default Analysis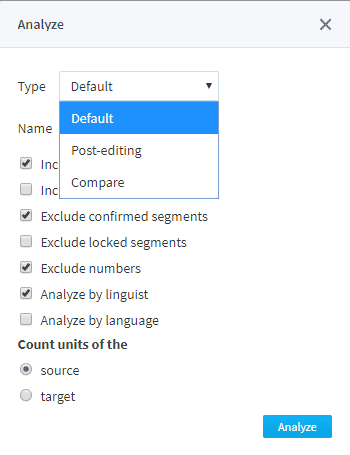 This is the standard analysis which should be used by default (and should be launched before translation). It provides a break down of the segments/word/character counts, shows matches with the Translation Memory (if used in a project), displays non-translatable matches, if enabled and can produce a quote for a client. 
Please note, that launching this type of analysis after the job is translated, can give you false results.
The options are:
Include internal fuzzies (for less than exact repetition)
Include non-translatables
Exclude confirmed segments
Exclude locked segments
Exclude numbers
Analyze by linguist (when multiple jobs are selected, they will be grouped by assigned linguist and analyzed together. The Analysis will be assigned to the linguist, there for visible to them)
Analyze by language (when multiple jobs are selected, they will be grouped by language combinations and analyzed together)
Analyzes machine translation and non-translatables post-editing (the effort of a post-editor to improve the machine translation and non-translatables output)
Analyzes translation memory leveraging in real time as the translation and the connected translation memory develop. This is useful for projects with multiple translators working concurrently on a project (to determine which translator contributed a translation to the translation memory and which translator merely used it)
Users can change the type of analysis required in the analysis settings which can be accessed via Setup or within a project when Analyze is selected.
It should be run after the translation is complete. 
Read more about the post-editing analysis.
Compare Analysis
Available in the Team, Ultimate and Enterprise editions only and only if the project has workflow enabled. This type of analysis makes it possible to compare two versions of a file in different workflow steps and analyze to which extent the two versions differ. For example, comparing Translation and Review steps gives the actual effort of the reviewer (how much the translation changed in the Review step). 
Analysis Settings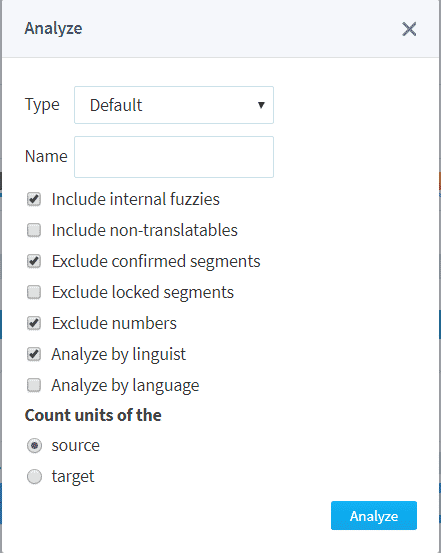 These optional settings are identical for all analysis types:
Include fuzzy repetitions

Segments in selected documents are compared with one another and when similar segments are identified, they are included in the analysis as fuzzy matches, depending on the similarity.

Include non-translatables

Segments are analyzed for non-translatables. Non-translatables are anything that doesn't necessarily need to be translated, for example, names, numbers, email addresses, URLs, symbols and codes. If non-translatables are identified, they are included in the analysis.  

Exclude confirmed segments
Exclude locked segments
Exclude numbers

All numbers are excluded from character/word/page counts

Analyze by linguist

If you have projects with many jobs assigned to various linguists or vendors, this option will do in one step what you would need to otherwise do manually step by step, i.e.:

Create separate analyses containing files assigned to individual linguists or vendors
Assign these analyses to the providers in question (as described above, this will make the analyses visible to the linguists/vendors in question)

Analyze by language

If your project contains multiple target languages, you can run analyses of all files in a batch - this will create separate analyses for individual languages. To do this, select all files and then tick this option in the Default Analysis settings window. 

Count units of the source / target

For any analysis type the user can decide whether to base the word count on the source or target
 These additional options are only available for the post-editing analysis: 
Analyze TM post-editing

With this option selected, the post-editing analysis will include translation memory edits. (It is selected by default). For example, if a linguist modifies a 100% TM match by 10%, the analysis will return 90% with this option selected. The analysis will return 100% if the option is not selected. Please note that this option is only available for the post-editing analysis.
Analyze NT post-editing
Analyze MT post-editing 

If either of these options is selected, the analysis will include the post-editing effort for each segment that includes NT or MT suggestions. 
See Post-editing Analysis for more information. 
A net rate scheme can be directly applied to words/characters/pages in an analysis. In this way the discounted translation volume can be calculated immediately and displayed directly in the analysis.
Download Analysis 
An analysis can also be downloaded as a CSV (with or without Characters) or LOG file format via the Download button. These files can be imported into most of the leading types of project management software.