Terminology can help to keep your translations consistent within your projects and ensure you and/or your translators use the correct terms.
Term bases can be multilingual and can be assigned to multiple projects.
The terms can be added and edited (with limits) by the Linguists during the translation process.
Some Linguists or Vendors might have unlimited editing rights for any term.
Term bases can be also accessed and edited by a Guest user (your client) if such a role is available in your subscription plan.
Memsource term bases are concept-based, so a single term in a language can have one or more counterparts in another language. The term base module also supports multiple languages in a single term base.
Create a New Term Base
To create a new TB, either click on the New button on the Term Bases page or select the plus sign (+) next to Term Bases in the left-side menu.
Enter a TB Name.
Select the languages for your TB. Unlike translation memories, term bases do not make a distinction between source and target languages. A term base can have multiple languages, but for the sake of speed and ease of editing, a maximum of 10-15 languages is recommended. Using 30 languages in a TB is still manageable, but more than 50 languages can cause your TB to become very slow and very hard to work with.
You can select the Client, Business Unit, Domain, and Subdomain (if applicable to your Memsource Edition and the account settings).
You can also add a Note if you desire.
Hit the Create button.
Create a New Term
Please see a dedicated article Create and Edit Terms.
Term Base Management
Terms can be searched, filtered, edited, imported, or exported in the Memsource Term Bases section.
New terms (not Approved terms) are displayed in grey.
Forbidden terms are displayed in red.
The Term Concept (source term, target term, synonyms) is displayed as a block of rows distinguished with white and blue background colors.
The term's attributes are displayed in columns that can be customized by clicking on the gear icon in the top right corner.
The term concept can be deleted by selecting the checkbox next to the term and clicking on the Delete button.
Individual terms can be deleted by clicking on the red X icon next to the term. Please note that deleted terms cannot be recovered.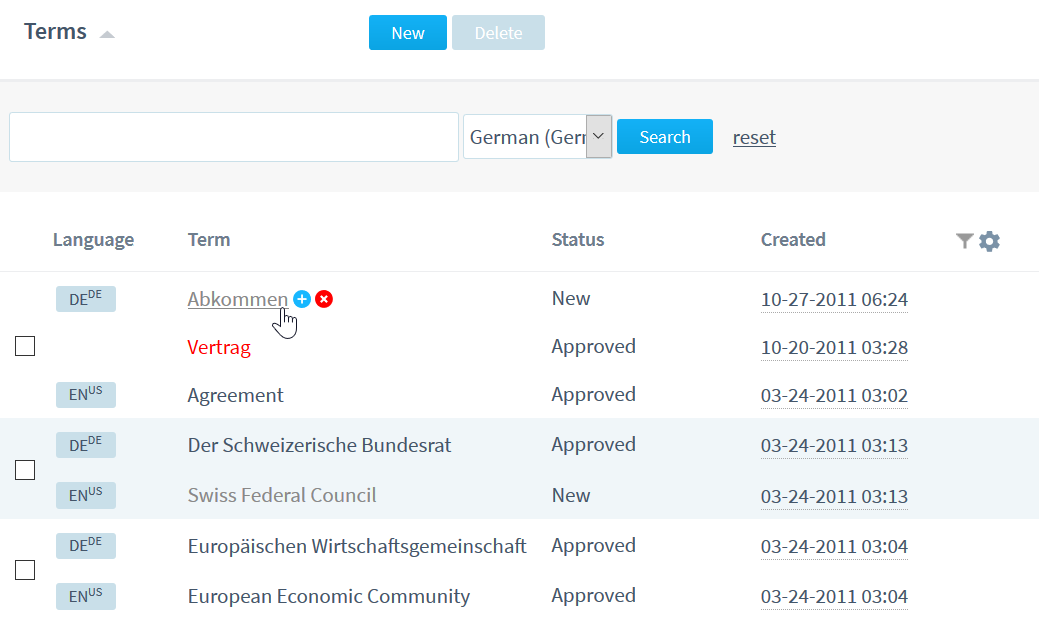 Search and Filter in a Term Base
Use the Search button to search for a TB term in the selected language. By default, a wildcard search is used. For an exact search, use quotation marks (such as "red car").
It is possible to Filter the searched results using the funnel icon in the top right corner. The filters will appear at the top as a row of fields that can be used to narrow your search. (See the gear icon for a list of columns that can be displayed.)
A new search will reset the filter, you should use Search before using the Filter.
Importing Terminology
Terms can be imported from XLS/XLSX and TBX files into a term base. When importing terms, you can decide whether they should be imported as a new term base or if they should be added to an existing term base. For more details, see our Import Content to a Term Base article.
Update Terminology
This feature is useful to modify existing terms that are already in a Memsource term base. To do this, just follow these steps:
Export the terms by clicking on the Export button and selecting the attributes that you wish to export. The Concept ID (CID), Term ID (TID), and the Term must be exported. By default, Status is also selected. You can decide to import the Status or not, and you can export any of the other attributes listed here as well.
Make the desired changes in MS Excel—be careful not to delete the CIDs and TIDs.
You can delete terms in one of two ways. Add the suffix |delete to the CID to delete it from all languages, or add |delete to the TID to delete it from a specific language.
Save the MS Excel file.
Re-import the Excel file. Important: before you click on Import, make sure you have the option Update existing terms selected.
Export Terminology
To export the Terminology, open the Term Base, scroll down to the Import / Export section and click on the Export button. You can select a TMX or XLS format and you can also filter the exported terms by their Concept's attributes Domain and Subdomain.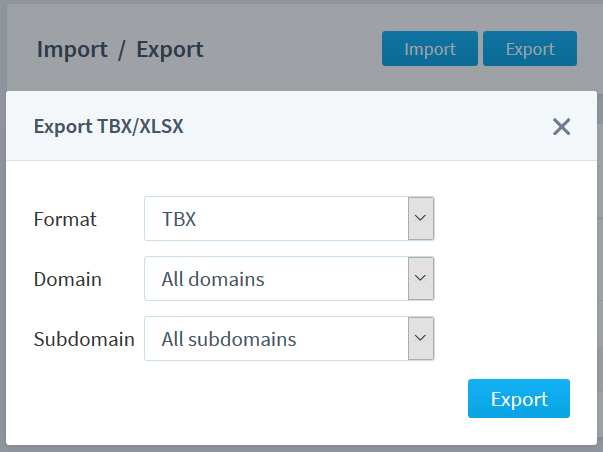 Export an XLS
XLS format is useful for editing - you can open it in Excel and easily edit any text. When exporting into an XLSX, select which term attributes you wish to have exported.
Export a TBX
The TBX format is ideal if you need to import TB to another CAT tool or if you'd like import/export terminology between two Memsource term bases. This is because the TBX format is lossless inside the Memsource environment.