Internal Spellchecker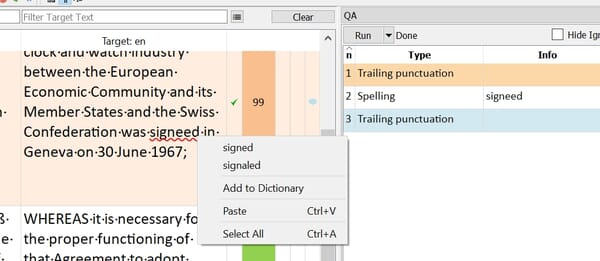 Memsource Editor has an integrated spellchecker which supports 136 languages. Starting with Memsource Editor version 3.97, the spellchecker has been completely redesigned, supports additional features (e.g. inline spell-checking, user dictionary, integration with QA) and is powered by Memsource Cloud. Therefore, a connection to Memsource Cloud is necessary for the spellchecker to function.
The spellchecker only supports spelling checks, not grammar checks.
Launching Spellchecker
The spellchecker is launched with the F7 key or from the Tools menu. It will list all spelling errors in the QA pane. After correcting the misspelled word and confirming the segment, the user will be taken to the next segment with the misspelled words.
Inline Spellchecking
A curly red line underlines misspelled words.
Alternative Spellings
Right-clicking on a misspelled word will display a list of alternative spellings.
Add to Dictionary
Right-clicking on a misspelled word will allow a user to add the word to the user's dictionary. (It will soon be possible to edit a user's dictionary.)
Ignore
To ignore a word without adding it to the dictionary, click in the "i" section in the QA pane. Doing this will show the misspelled word as "ignored" under QA but the word itself will remain underlined in the target segment.
MS Word Spellchecker
Alternately, spelling and grammar can also be checked via MS Word or any other office application that can work with DOCX files (e.g. Open Office Writer). In Memsource Editor click on Export to Bilingual DOCX under Document. This will convert the MXLIFF file into a bilingual DOCX file and open it in e.g. MS Word. Check the spelling and grammar there and when you are done, save the bilingual DOCX and then reimport it into the Editor via Import from Bilingual DOCX under Document.
IMPORTANT: Do not forget to save the changes in the DOCX file before importing it back to the Editor. Even better, close the DOCX file first and then import it into the Editor.