To get to the Preferences section, click on Tools and select Preferences. From here, you will see 5 tabs: CAT, Login, Appearance, Network, and Misc. Each tab has various options for customizing the Memsource Editor.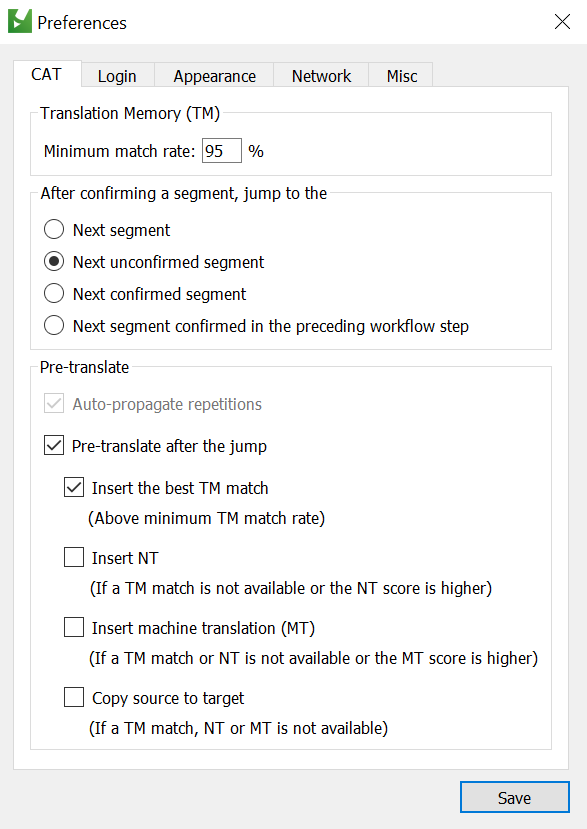 The CAT Tab: 
Set the Minimum match rate for translation memory matches to be displayed and used for pre-translations.
Select the desired behavior after confirming a segment (e.g. if the Next unconfirmed segment is selected, the cursor will automatically jump to the next unconfirmed segment after confirming a segment).
Enable/disable the auto-propagation of repetitions. Admins and Project Managers can decide if the translations of repeated source text segments are automatically inserted into the corresponding target text segments. They can also choose whether Linguist users can control this setting. See the article on Access and Security Settings for more information.
Set the Pre-translate options to control the behavior of pre-translating the next segment that the user jumps to after confirming a segment (Insert the best TM match, Insert NT, Insert MT, and/or Copy Source to Target).
Note: Selecting Insert MT will have the segments pre-translated with machine translation when a translation memory match above the minimum specified threshold is not available. However, this option will only work if the machine translation has been activated for the project by the Project Manager.
The Login tab:
Enter your login information in the Login tab to be able to connect to the translation memory, term base, and other centralized resources.
The Appearance tab:
Select the font size of the translation table, tag editing window, and the panes
Show spaces
Show segment background
Hidden Characters: Select color (Black or Blue)
The Network tab:
Set up your Proxy server manually if needed. (Note that this will not be needed for most users.)
Misc tab: 
Select whether auto-complete is enabled or disabled (by default it is enabled). 
Select whether multiple instances of the Desktop Editor are enabled or disabled (by default this feature is not enabled). 
Select whether Instant QA is enabled or disabled. (The Instant QA feature can be disabled in the Editor. However, if the Project Manager has restricted Linguists' rights to change this setting, the option in the Preference window will be greyed out and the Instant QA will run on each confirmed segment. For further details, please see our Quality Assurance Pane article.)