In Memsource projects, Project Managers can assign work to their Linguists and other Vendors using one of two schemes (or roles). Each role grants different types of rights to the stakeholders, allowing you to give more or less control to others working in the project.
Linguist Users
The main purpose of the Linguist user role is to translate, edit, and/or proofread documents.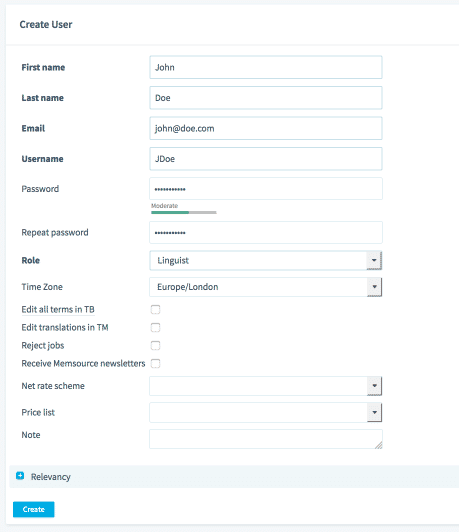 With this scheme, Project Managers assign work to their Linguist users. There are a few things to keep in mind when assigning Linguists to jobs:
Linguist users do not "own" their accounts.
Linguists only get access to projects assigned to them by Project Managers.
Linguists cannot make any changes to a project's settings.
Linguists cannot attach their own private translation memories or term bases.
Linguists, therefore, just log in, find the projects or jobs assigned to them, and deliver the translation/linguistic service requested of them.
Vendors
Memsource also offers the ability for two independent Memsource account holders to connect and share work with each other, through what we call project sharing and a buyer-vendor relationship.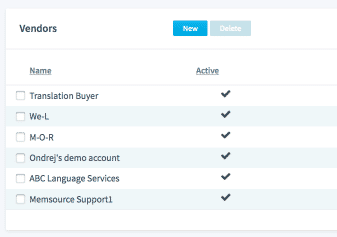 With this scheme, Project Managers acting in the role of Buyers assign jobs to the holders of independent Memsource accounts, who themselves are acting in the role of Vendors.

For this, a Vendor needs to have their own account in Memsource. For example, a Vendor could have a Team Start account if they are an independent translator, or a Team account if they are part of a translation team. Here are some facts to be aware of with Vendor accounts:
Translators have their own accounts in which they can create and edit projects, translation memories and term bases.
In addition to creating their own accounts, they can accept shared projects or jobs from translation buyers. In these, they can attach their own translation memories and term bases and use these resources in addition to the resources attached by the project owner.
Inside projects, Vendors can do some project management, too. This includes splitting files, running their own analyses, assigning files within their teams, or even further sub-contracting the work to other partners.