Sometimes, you will need to update a file you've given to a Linguist or Vendor before the translation has been completed. This can happen, for example, when you get a new version of a file that is currently being translated, with some strings unchanged, some strings added, some modified, and some deleted.
If this happens, you don't have to start the project from the beginning. Instead, please proceed as follows:
Step 1: Make sure that the Linguist or Vendor has saved all their existing translations to the TM.
Step 2: Import the new version of your file as a new job.
Step 3: Pre-translate the file against the TM, taking only 101% (in-context ) matches. Your context can be formed by the previous and following segments, or by segment keys associated with the translated strings. You could, for example, use the following settings for the pre-translation: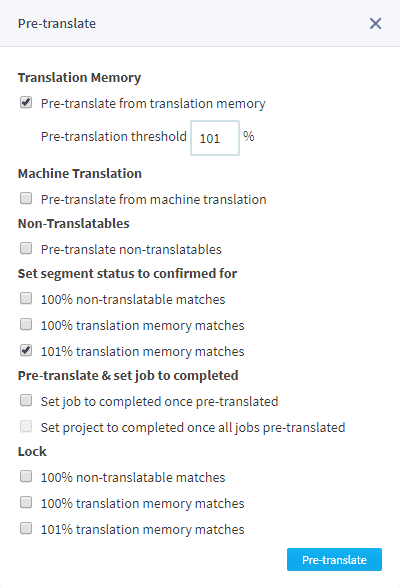 Step 4: Cancel the translator's assignment to the previous version of the job.
Step 5: Assign the new version to the translator, and possibly also e-mailing them a new job notification.
Note: It is not possible to make changes to the source file in the Editor and then export the updated source file with changes.
In Memsource, when you choose Download and select Original file, you will get the actual original file (the one that had been imported initially). 
The main purpose of making updates to the source section of the document is to make sure incorrect results are not saved into your translation memory.