Supported Languages
Memsource Cloud is a language-independent system. This means that we can support practically any language. If there is a language we do not currently support, we can add the support in a matter of a couple of weeks.
When you select source and target languages, you are only offered languages that are set in the system as "active". Languages can be activated and deactivated under Setup - Administration - Active Languages:



This is the full list of the languages currently supported by Memsource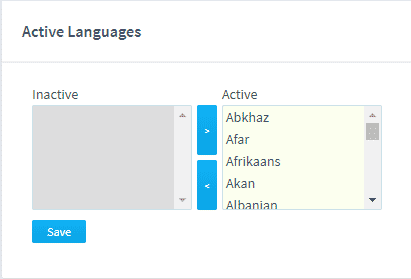 .
Spellchecker
Memsource offers an embedded spellchecker, which supports most of the major languages available in Memsource. This is the full list of languages supported by Memsource spellchecker.

For languages that we do not support directly, users are recommended to use the MS Word spellchecker. The procedure is very simple.
In Memsource Editor, click Document - Export to Bilingual DOCX.
Open your document and edit the right column in MS Word or another document editor, such as Libre Office's Write.
Make sure you save your changes and ideally close the document when your edits are done.
Then go back to Memsource Editor and click Document - Import from Bilingual DOCX. This will import the content of the bilingual docx back into Memsource, updating all modified segments. 
All segments that were thus modified are now set to "not confirmed". Confirm them to save the changes in your file and the translation memory.